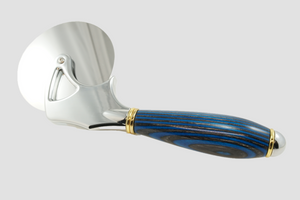 Colored Wood Pizza Cutter - Blue, Gray
Regular price $75.95 Sale
This pizza cutter has thin strips of wood, dyed brown and gray, layered and laminated together.
The patterns that emerge from the carving process are always amazing, and our unique finishing process fully brings out the stunning color schemes.
The stainless steel blade is 4 inches in diameter, allowing you to cut down into the pizza crust, not fighting your way through it. The handle screws
off so that the top can be properly cleaned in a dishwasher or sink without damaging the wooden handle.